The Inappropriate Library by Kim Isaac Greenblatt, copyright 2008, all rights reserved
Please find some pages from the Inappropriate Library, coming soon from Shockingly Awesome Press. The book is the first in a series of fantasy books. Please note that the title of one of the chapters is "Excerpt From Fun Facts of the Ancient World 1102 AD Edition" and that is not an excerpt.
For comments and feedback please email the author Kim Greenblatt - thank you for your interest in the series!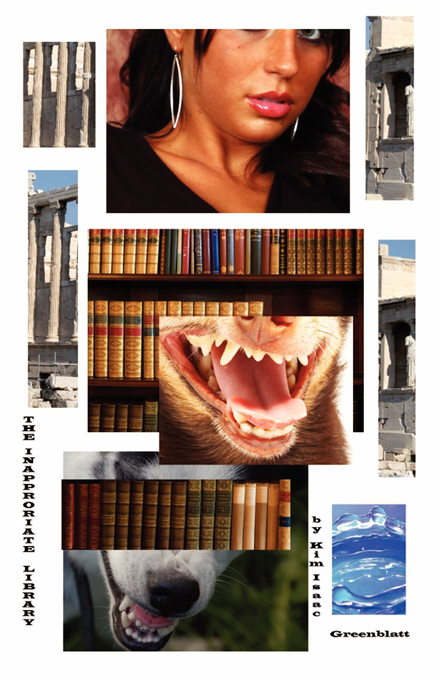 "Text me?"  Jake asked.
"Sure," I said.  "As long as I can get a signal from our new place."
"Oh, man.  You should be able to get a cell phone signal or Internet from anywhere, man."
I got into the car with Mom and my sister, Veronika. I waved good-bye to Jake till I could no longer see him in the distance. 
"You'll make new friends when you get to New Alexandria, honey", Mom said.
"I guess."
I had no idea at the time that the friends I would make would be talking books. 
Talking books like the Fun Facts of the Ancient World 1102AD Edition… go to next selection
Publisher: Shockingly Awesome Press
ISBN/SKU: 0977728285 ISBN
Complete: 978-0-9777282-8-2
Title: The Inappropriate Library
Publication Date: 3/2/2008
Language: English
Coming Soon thru a bookstore near you in the US and UK.
Price: US $12
Book Description: Billy North and his family move to Northern California to discover a small town where all the children hang out at the library. Instead of playing video games or text messaging, the kids like to be with their books. Something is different and very horrible at the town library. Billy's life shifts into a fantastic world of excitement as he discovers the secrets and power of the Inappropriate Library. This is the first book in this new exciting series! Suitable for children and adults. A portion of all sales from this book go to research Rett Syndrome. Rett Syndrome affects a girl born every fifteen minutes. Boys born with the Rett gene die at birth. Kim Isaac Greenblatt, the author, is also a writer of non fiction books.
LCCN# 2007910324
Copyright 2008, Kim Isaac Greenblatt, All Rights Reserved